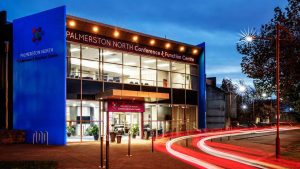 Convention Centre and Accommodation
This well-appointed event centre is the perfect space to hold our convention this year. Read details and see the map here.
There is no accommodation at the venue, but here are some local ideas:
https://www.railwayhotel.co.nz  New Railway Hotel provides backpack type accommodation and is only a few minutes along the same road as our venue.
Also on Main Street is the Masonic Hotel https://www.masonichotel.co.nz
https://www.ambassador-motel.co.nz  Reasonable cost for a motel. It's a bit of a walk along Fitzherbert Avenue, but a direct route to the convention centre.
On the https://nz.hotels.com/ site, you can find the Massey Campus Summer Stays. A car would be needed from here although there is a good bus service to and from Massey.  Also on this site are a range of accommodation options including apartments in the central city that groups could utilise to keep the costs down.
https://www.airbnb.co.nz  Various types of accommodation for singles, couples, and groups to share. Worth a look for some good prices and a wide range of accommodation.
Note our convention venue is on Main Street; opposite George street.