Mainstay April/May 2021 – Final NZ Edition
Please click this link to open and then read or download

Mainstay April/May 2020
With Covid–19 lockdown measures making printing and distribution of Mainstay impossible and causing the closure of our regular AA Meetings, the Board has decided to make Mainstay (our fellowships meeting in print) free online for all members as a way to support and carry the message. We at the Mainstay Team hope that you will like the free online issue. Left-click to open or right-click to download.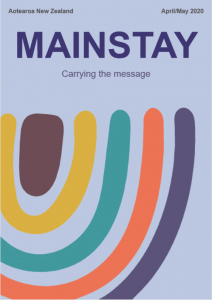 Commonly referred to as New Zealand's "meeting in print" Mainstay aims to reflect the aims and aspirations of the fellowship of AA in New Zealand.
Mainstay is produced on behalf of the New Zealand General Service Board who appoints an editor and supports that editor's right to accept, reject or edit material for publication.
The editor also has the responsibility to:
Coordinate the production of the magazine
Choose a monthly theme (if they like)
Select content appropriate to the magazine under the guidance of Conference and experience.
As well as being AA New Zealand's "meeting in print", Mainstay is also a national magazine that is a forum for AA members throughout New Zealand (and overseas) to share their experience in print, to communicate events, to keep the fellowship in New Zealand informed.
Mainstay is also a communication tool for both Loners and housebound members however Mainstay should always be a magazine that is relevant to the entire fellowship. Mainstay should always reflect the issues of the entire fellowship.
Submit a Letter to Mainstay
Mainstay welcomes letters of experience strength and hope and actively encourages member's to contribute.
Preference is given to letters which outline:
what we were like
what the AA programme has done, or is doing for us
what we are like now
Topics, subjects and information deemed suitable for publication fall quite simply into the same criteria that is applied in meetings, and relevant to your own recovery. Is the information you want to share likely to help other alcoholics? After all, Mainstay is "A meeting in print".
Editorial Policy
Mainstay publishes stories from AA members that reflect the full diversity of experience and opinion found within the Fellowship of Alcoholics Anonymous. No one viewpoint or philosophy dominates its pages, and in determining the editorial content, the editors must rely on and always keep in mind the principles of the Twelve Traditions.
Letters on the shared experience of individual AA members working the AA programme and applying the spiritual principles of the Twelve Steps are welcome from members of the Fellowship. While the editors have the right to accept or reject letters for inclusion, letters are evaluated by AA members, and while some editing is done for the purposes of clarity, styling, and length, the editor encourages all writers to express their own experience in their own unique way.
Articles are not intended to be statements of AA policy, nor does publication of any article constitute endorsement by either Alcoholics Anonymous or Mainstay.
Stories are invited, although no payment can be made nor can material be returned nor is correspondence entered into with contributors by the editor or the editorial committee.
Partly for legal reasons, and also respecting Tradition 12, poems, prayers, song lyrics, plays, tributes to individuals (whether in letter or obituary form) are not published. Neither is any material unrelated to AA or that violates the principles of AA.
Service reports such as those from World Service Delegates, Convention Committees, Archives and any other Committees undertaking duties that may be of interest to the fellowship will be included.
Mainstay content is New Zealand conference approved literature, therefore only other conference approved literature should be used in compiling the content of the magazine. This includes:
Content from other country's national magazines (the Reviver, Grapevine) with an appropriate disclaimer attached to any such content i.e. Copyright @ The AA Grapevine, Inc. (Month, Year) or Reprinted with permission Xxxx. Copies of these magazines can be obtained from GSO, who will also provide copies of articles of interest from Box 459 etc.
AA event notices – references to sister organisations Al-Anon, Al a teen may be made only within the wider context of advertising an AA event
Anonymity
Mainstay is distributed to a wider audience than the AA Fellowship and is to adhere to Tradition 11 (anonymity is the cornerstone of our traditions, ever reminding us to place principles before personalities).
Therefore, no content should be published that identifies an individual AA member. This includes:
Full names on or in letters
E-mail addresses or website references should not show any full names of members – this includes notices for events and functions. If an AA member wishes to use an email address it should be one that does not contain a full name.
Mainstay can publish the full names of non-AA members (Non-AA trustees etc.) where permission is given. Full names are not to be used in reference to members who have passed on.