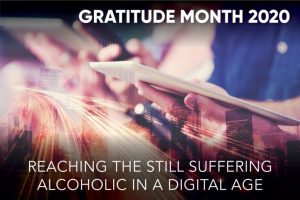 Our 2019 members' survey showed that the biggest increase in how people were
introduced to A.A. was via the internet. Since we launched the new website we have seen
our website traffic increase by 100% (it doubled) and during lockdown, it increased by 200%
(it tripled). COVID 19 has shown us how valuable our online presence is especially to those
who are seeking help.
For Gratitude Month this year, we want to make the most of our new website by adding
videos about A.A and introducing a live chat function for the newcomer to reach out to us.
When is it?
Gratitude Month will run in August this year
How much should I contribute?
How do any of us put a monetary figure on gratitude? We just need to remember that we all
got sober on the contributions of those before us and the still suffering alcoholic needs to
get sober on ours.
How do we go about it?
You can contribute online this year. Simply use the 'Gratitude" button on the A.A website
(under the members tab) or use internet banking with the details below. This does not
preclude groups who have a tradition of running a Gratitude month collection to continue to
do so, it is appreciated. Please remember to use "Gratitude" as the reference for all banking
donations.
• Account name: New Zealand General Service Office
• Number 06-0501-0236572-07
Gratitude month